ABOUT SOY
SOY BENEFITS
SOY ARTICLE
SAVE MONEY
RECIPE IDEAS
SOYMILK INFO
INSTRUCTIONS
ORDER
CONTACT


About Soybeans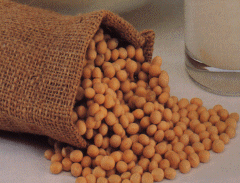 Soybeans are a natural, nutritional food product which is widely grown in the United Stated, Brazil, and China. The soybean grows on flowering plants and is considered a legume. Legumes are beans (or "seeds") which grow inside a pod (a casing which encloses the bean/seed). When the soybean is fresh, the pod is a rich green color and the seed is generally light green or yellow and is firm to the touch. Fresh soybeans are available in natural food stores, Asian food stores, and some supermarkets. You may also purchase canned or dehydrated soybeans in most supermarkets.
The soybean is an extremely healthy legume which contains a very high amount of protein. Since the soybean is also rich in protein, it can contain an even higher protein content than meats and is a vast source of other vitamins and iron. As well as being nutritional, this remarkable and powerful food product is cholesterol-free and is reported to contain five known classes of anti-cancer agents (including a phytoestrogen called "isoflavones" which is unique to soy).
Besides being good for you, the soybean has many nutritional uses. The soybean is the primary ingredient in what we commonly refer to as "vegetable oil." Soybeans are also used as a low-fat meat alternative and is used in many Asian foods (Japanese, Thai, Chinese). The soybean can also be used to create a natural, healthy milk alternative.